Plywood cup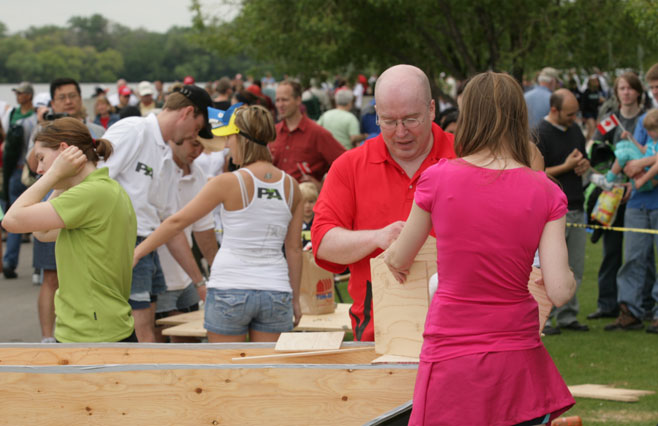 Looking for plans on Canada Day? Look no further, The Regina Progress Club is pleased to announce the 11th Annual Plywood Cup! On July 1st 2015 teams of four will assemble various resources to create a boat, and then one team member will race in the boat across against other teams across Wascana Lake. Prior to the event, each team is required to collect pledges which in turn will go to the Raise-A-Reader program, and the Pediatric Outpatient Unit at the Regina General Hospital. Previous years have proven successful, raising over $50 0000 dollars to help those in need.
Get involved with your community! Your co-workers have what it takes to create a strong team. You will have the opportunity to strategize a team name, and will quickly notice the importance of teamwork. Not only is this a chance to spend time with your co-workers outside the office, but it is truly supporting a great cause. Prizes are awarded to the top three fundraising teams, as well as a variety of prizes for Fan's Choice, Best Dressed and many more! If for any reason you are unable to get a team together, feel free to come as spectators. You can cheer your co-workers on, and venture all around the park that will be packed with Canada Day activities.
We would like to thank the community for their continual support in the Plywood Cup. Without you, none of this would be possible. We look forward to seeing you and your team race across Wascana!